The Oscar Qualified Filmmaker Radheya Jegatheva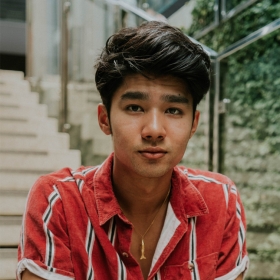 Radheya Jegatheva is an Oscar qualified and AACTA nominated filmmaker based in Perth, Australia and born in Johor, Malaysia to parents of South Korean, Japanese, Indian and Malaysian ancestry. He is a Bachelor of Commerce and Arts graduate from Curtin University (2021) in Western Australia. Radheya's films have been selected to 26 Academy Award Qualifying Festivals. His 2019 film, The Quiet was Oscar qualified, and his 2017 film iRony was nominated for an Australian Academy of Cinema & TV Arts (AACTA) Award.
Radheya's films, which collectively have more than 1,000 official selections and 400 awards worldwide, have been played in all the world's 7 continents including Antarctica at the Davis Research Station.
At our festival, we present 3 of his films: The Quiet, Pacing the Pool and Painting by Numbers.
Painting by Numbers is a child's encounter with classic masterpieces triggers a confronting epiphany. Radheya was using the Procreate application on iPad to individually draw each element of paintings (new and old). The classical paintings had to be entirely digitally redrawn and repainted by him, from scratch using the originals as references.
When we look at great art, do we realise it is looking back? With eyes that see more clearly than we do?
In a mysterious gallery imbued with strange life, shadows of the past and unresolved futures collide when a child's vision peels away the layers of what we call 'reality'...join a journey through the masterpieces you thought you knew as their hidden souls are finally given a voice.
As layers of contemporary 'reality' are stripped away, art's unseen soul brings a challenge we can neither ignore nor escape. Or can we? Will their message be heard in time?
The door is open. The masters' works await us. Who will enter?
The second film we will screen is The Quiet."'The Quiet' is very loosely based on a 2016 short story by the director titled 'Silence' which was the overall winner of the Mundaring National Youth Section for the KSP Speculative Fiction Awards and a High Commendation for the 2016 Rees Prize for Young Writers under the auspices of The Fellowship of Australian Writers WA.", says the author. Radheya collaborated on this film with a narrator Jay Jay.
In the film, the main character is an astronaut, who ponders on the quietude of space, he comes upon a startling self-realisation. The truth is written in the stars, but what will he uncover?
The last film by Radheya, which we will screen at our festival is Pacing the Pool. It is a tiny glimpse into the extraordinary life of Richard Pace. A different approach to life might have seen him crushed under the weight of the physical and mental stresses he has been through since he was a child, however, healing waters have helped him rise above it all!
"We all know water is the source of all life. But for Richard Pace it's more than just a source of sustenance - being in the water is an immense source of healing and provides the framework for a loving community. Being able to capture that essence was really heart-warming to see, and it made the filmmaking process a truly special experience.
This is a documentary that only reveals a small slice of Richard's astounding life. I wanted to literally and figuratively depict what goes on under the surface - both in his body and mind. Loneliness, fear, friendship, hope, love. Years of battling a debilitating bone disease has not worn him down. He's stronger than ever, and it's great to see Richard is still keeping pace." says the author about the film.
You definitely have a lot to be looking forward to!Our program coordinators call Radheya "a genius". Our team truly likes his work and we are looking forward to watching his films again soon!
21.10.2021 • Festival program »